Assorted Gourmet Topping Salts Sampler
23-00-13-001
This is a set that includes sample (1 oz.) sizes of all 7 of our tasty flavored blended salts!!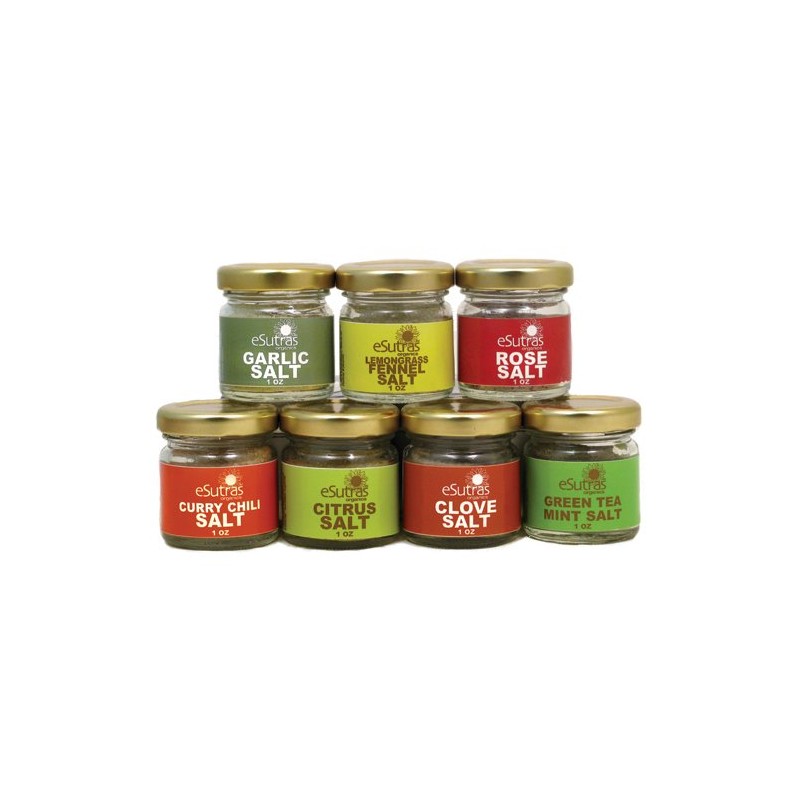 Maximize
Made with real organic herbs,flowers,fruit extracts and a combination of earth, sea and mineral salts, eSutras Organics Culinary Gourmet Salt Sampler brings an exciting new applications to salt, while still contributing to your health. Citrus salt is a must have for your bar. Magnificent as a margarita glass rimmer we cannot keep this one in stock! Clove Salt with its combination of earthy, fruity flavor is perfect for salads, grilled vegetables and to gently spice up an ice cream cone. Lemongrass salt is slightly tangy and goes great with fish (especially salmon) and all sorts of veggies. Curry Chilli is very versatile and can be used to season meats, sprinkled on salads and is amazing on desserts, in your soups, stirfrys or simply over popcorn. Rose salt sprinkled on baked desserts, it adds just a hint of flavor while enhancing the appearance of your dish. This set includes our 7 salts in an ample (1 oz.) size. Citrus Salt, Clove Salt, Curry Chilli Salt, Green Tea Mint Salt, Lemongrass Salt, Rose Salt, Garlic Salt. Try it today!
Shelf-Life

5 years

Ingredients

1 oz. size.Citrus Salt,Clove Salt, Curry Chili Salt, Green Tea Mint Salt, Lemongrass Salt
No customer reviews for the moment. Log-in to leave product reviews.